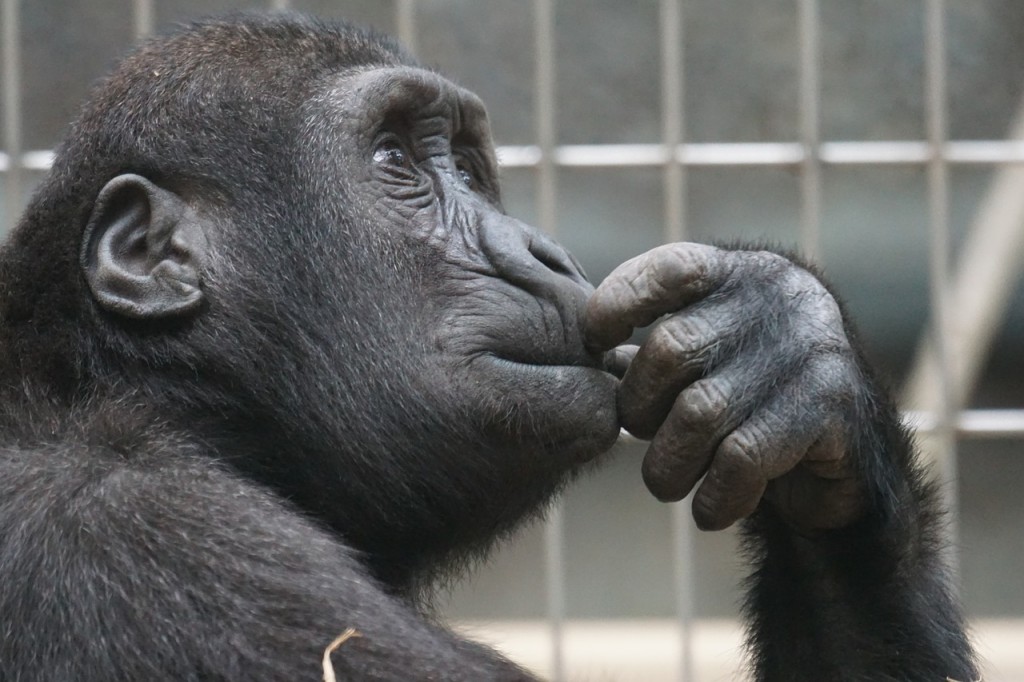 To be a great advocate on social media is to be a great communicator.
With this in mind, it shouldn't be a surprise that content and engagement is the secret sauce of social media advocacy. Ideally, your social content should be multi-dimensional, serving multiple purposes – from fundraising to public awareness – and hitting all the right emotional notes. Your social content should also speak to your brand and how your organization is achieving its vision.
I've provided below 8 different examples of content that I hope will inspire your next social media move.
1. Success stories
When people donate and contribute to your cause, they want to know that their support is making a difference. That's why it's crucial your organization shares posts on social media that highlight success stories and progress.
In the Facebook post below, Plan Canada – the architect of the "Because I'm a Girl" campaign – uses video to highlight the non-profit's success stories over the past 75 years.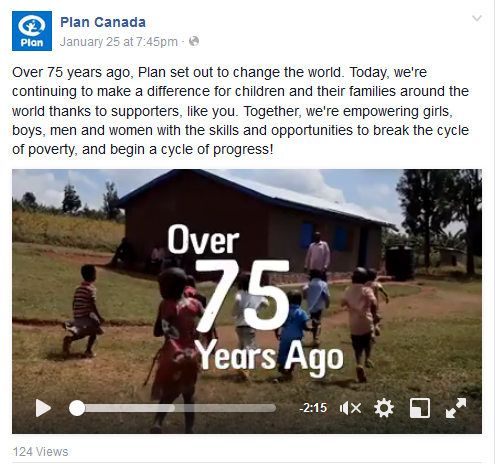 2. Community posts
Build a tightknit community on social media by including posts that feature your supporters and members. These kinds of posts also provide incentive to your community to check out your social media channels.
ACTRA, the Canadian union for actors and other performers, frequently highlights its members accomplishments on Facebook and Twitter, including the below post about member Rachel McAdams' Oscar nomination for best-supporting actress.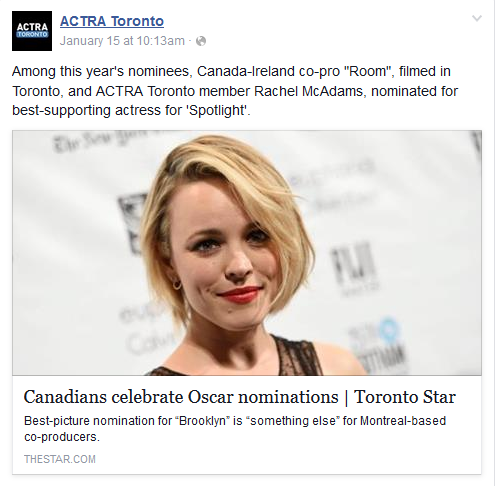 3. Controversial posts
A favourite of some political action groups, posts that are provocative and graphic are meant to "wake up" viewers to see the world in a different light.
PETA (People for the Ethical Treatment of Animals) is famous for its use of provocative social media posts that cover the entire gamut of emotions, from outright disturbing animal cruelty videos to funny pics like the image below. You're likely more aware of PETA and animal rights because of this content type.
Our new #SeaWorld billboard is leaving people speechless. https://t.co/LLHQCcx3IX pic.twitter.com/zprC8vjSgT

— PETA (@peta) January 27, 2016
4. Offerings and initiatives
Always promote your events, services, initiatives, etc. on your social media channels, in addition to your website, emails and other marketing. I'd argue that you should promote these things on social media and email first, as these followers are likely the most supportive people in your community and, as such, deserve to hear the news first.
Like many non-profits, March of Dimes Canada uses its social channels to sell products and services to help fund its mandate, which in this case is helping people with physical disabilities.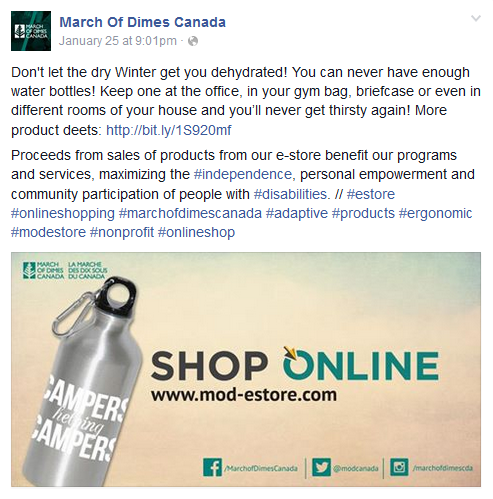 5. Inspirational posts
The foundation of every cause is a compelling vision of a better future. As such, it's imperative that you talk about your organization's vision on social media, to remind your audience what you're fighting for.
I really like this Facebook post from High Tides International, which is full of hope in its use of imagery and nostalgic Dr. Seuss quote.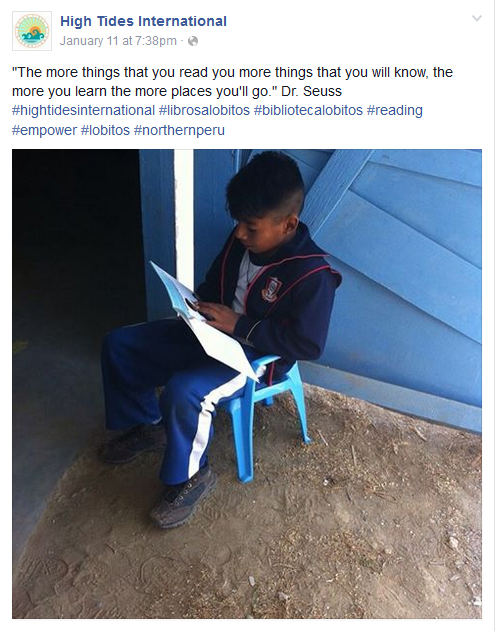 6. Behind-the-scenes posts
Open up to your community by sharing "back-stage" news and photos on social media. These kinds of posts will give your organization a valuable personal dimension that can bolster your brand and cause.
In the below example, LOFT Community Services shares an informal photo of its employees with its Facebook community.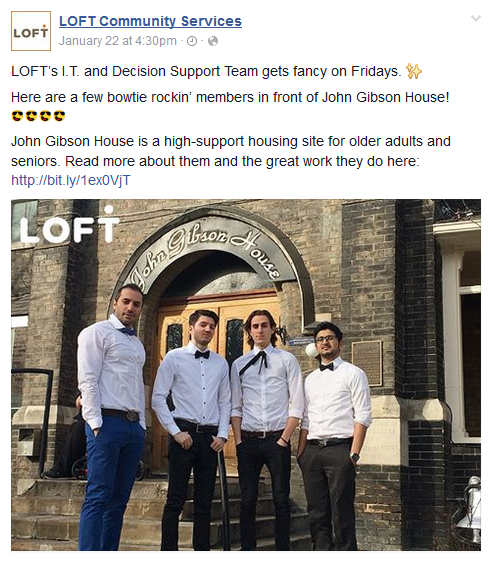 7. Research and important information
Your social channels are a convenient place to inform your audiences of the latest research and information as well as provide practical advice that's related to your cause.
For example, see the "factoid" tweet below from medical/ research organization Dignitas International about an HIV/AIDS survey in Kenya.
Most common #TB test fails to detect TB in 50% of pregnant women living with #HIV https://t.co/Z3BRGw8Bxq — Dignitas Intl (@DignitasIntl) January 27, 2016
8. Questions, polls and quizzes
These kinds of social media posts, which can be either fun or serious, are probably the best way to get people to actually participate in your social forums. They can also be used to collect feedback from your community.
The fun question below from CNIB, a non-profit that supports seeing-impaired Canadians, is a good example of this engaging post type.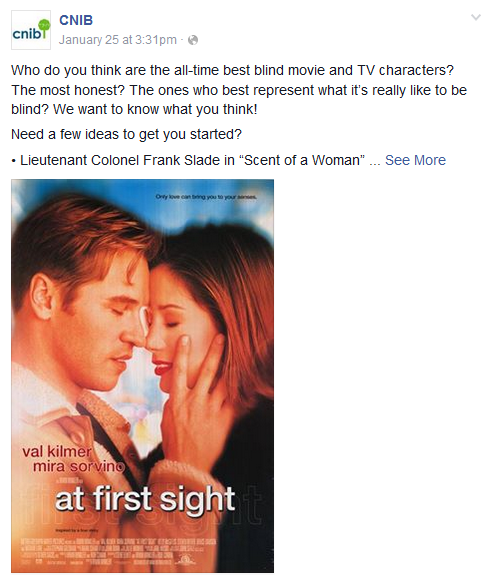 Can you think of other social media content types? Leave your thoughts below!