Originally published December 15, 2014
No matter what your business, having a professional email newsletter is a fantastic way to engage people. An email newsletter allows you to communicate directly with your target audience, while providing your followers and potential customers with the content they want, whether it be gardening tips, celebrity gossip or political news.
Want to create your own amazing email newsletter? Follow these 7 quick-and-easy steps below!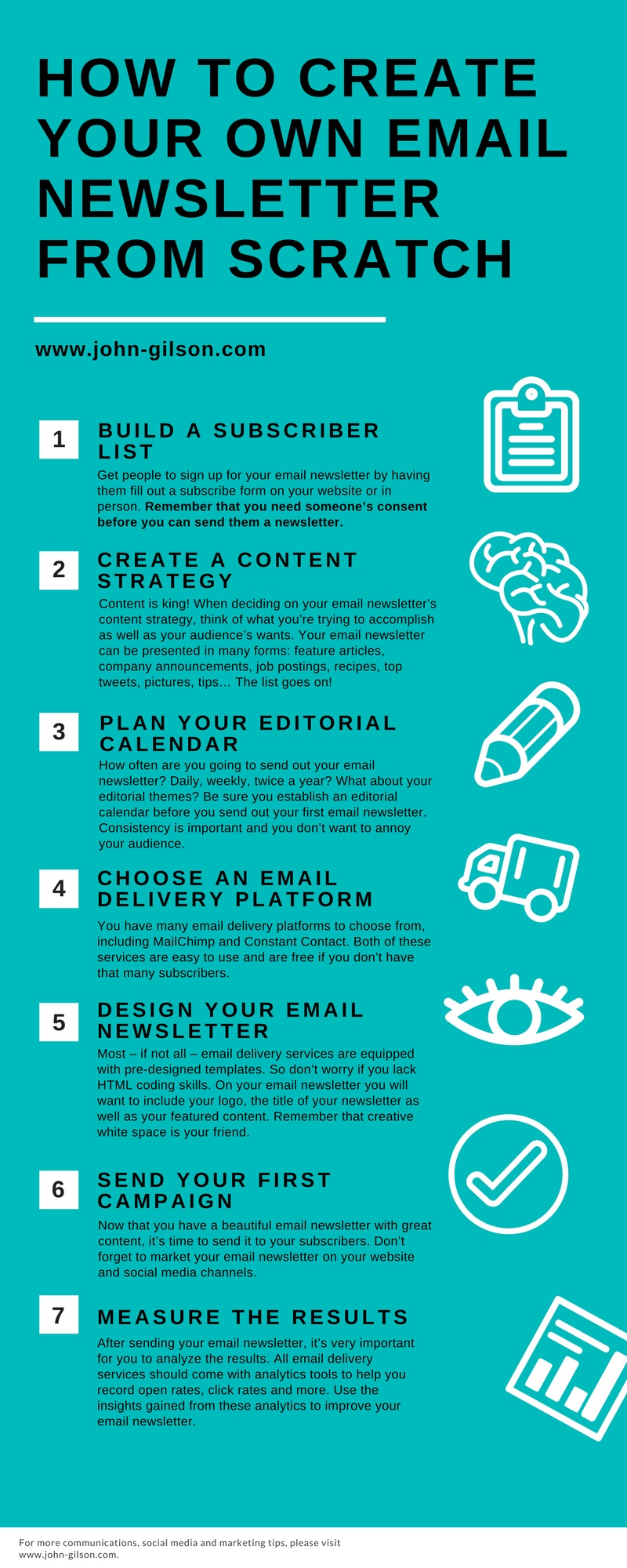 Step 1 – Build a Subscriber List
Get people to sign up for your email newsletter by having them fill out a subscribe form on your website or in person. Remember that you need someone's consent before you can send them a newsletter.
If you operate in Canada, you need to be compliant with Canada's Anti-Spam Law (CASL). Read my article on CASL for more information.
Step 2 – Create a Content Strategy
Content is king! When deciding on your email newsletter's content strategy, think of what you're trying to accomplish as well as your audience's wants. Your email newsletter can be presented in many forms: feature articles, company announcements, job postings, recipes, top Tweets, pictures, tips… The list goes on!
Step 3 – Plan Your Editorial Calendar
How often are you going to send out your email newsletter? Daily, weekly, twice a year? What about your editorial themes? Be sure you establish an editorial calendar before you send out your first email newsletter. Consistency is important and you don't want to annoy your audience.
Step 4 – Choose an Email Delivery Platform
You have many email delivery platforms to choose from, including MailChimp and Constant Contact. Both of these services are easy to use and are free if you don't have that many subscribers.
Step 5 – Design Your Email Newsletter
Most – if not all – email delivery services are equipped with pre-designed templates. So don't worry if you lack HTML coding skills. On your email newsletter you will want to include your logo, the title of your newsletter as well as your featured content. Remember that creative white space is your friend.
Step 6 – Send Your First Campaign
Now that you have a beautiful email newsletter with great content, it's time to send it to your subscribers. Don't forget to market your email newsletter on your website and social media channels.
Step 7 – Measure the Results
After sending your email newsletter, it's very important for you to analyze the results. All email delivery services should come with analytics tools to help you record open rates, click rates and more. Use the insights gained from these analytics to improve your email newsletter.
Like this article? Subscribe to my email list to receive my latest posts on communications, social media and marketing!
Save
Save